A Redditor named Dong_of_jusitce got famous after he posted the picture of his cute Husky named Tally. The thing that makes this Husky is special is that it was raised with cats and now he thinks she is a cat herself and acts like them as well.
According to her owner, tally would piss on the floor if w did something that she does not like. To make the matters extreme, she would find places like carpets and rugs to do the pissing. She also likes to sit like a cat with her arms and legs folded under her body.
Tally is not a pure breed Husky but is actually a mix of Husky, Malamute and some other dog breed. Malamutes are also bit like cats in their nature.
Unfortunately for us the owner of this Husky has not provided us with pictures with which this Husky was raised. The husky as raised with cats at her previous owners. Dog owner said that the previous owner only told me that she was raised with cats so I can't prove it for sure.
We believe that seeing these pictures you will believe the fact that this is a cat in Husky's disguise.
Following are the pictures for you to enjoy looking at this dog who thinks she is a cat.
Husky who was raised by cats and thinks of herself as a cat

She sits like a cat with her arms and legs tucked under her body

She likes to sit in boxes just like cats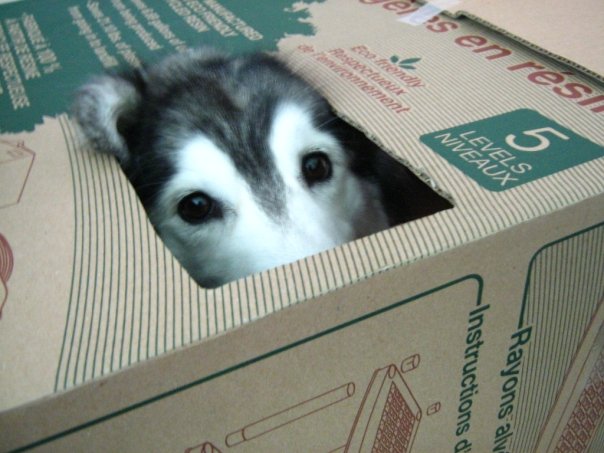 She ended up staying in there for awhile

Owner adopted her when she was just 2 years old

According to previous owners she was raised withcats

She's almost completely mute. She likes to lie there, observing people and silently judging them all day

Sunbathing like a cat

Her day is not complete without getting into trouble at least once

Getting into trouble…again

You might think that she'd like you to pet her belly. You would be wrong. She'll stare at you and sigh a lot until you stop

Owner would get stopped a lot on the streets just to be told how beautiful she was. Usually wouldn't be able to hear it all before she'd drag him away.

Lazy but flexible, so she'll twist her head round to check what's going on

We hope you enjoyed!

Related Content
Banner the Hero Husky finds a box full of near death kittens and
Cute Animals seem a thing from a horror novel when they are soaking wet