Although most people tend to get animal companions which are traditional animals like cats and dogs but for someone like Elliot Manarin, he only chooses the unorthodox ones.

One day a local breeder contacted Elliot and said to him that he has a raven named Loki, who's the owner has died and Loki was now an orphan and was in need of a new place.
The story was that the owner of Loki passed away but his body was not found until it was few weeks and during that time Loki was left alone by himself. After the dead person was found by his relatives, they also got in touch with a local bird breeder to take care of Loki in his recent predicament. It was then Elliot was informed of Loki and he offered his home and heart for Loki.
This is Loki, who is a well-trained raven from Essex, England. He has a heart worth in gold but his attitude is a little bit cheeky.

The previous owner of Loki died and left Loki orphaned but then Elliot picked him up and now they are BFFs.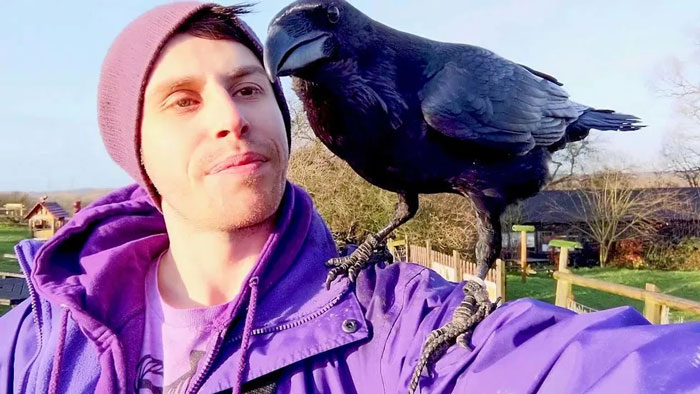 But it was not an easy friendship for the get-go as Elliot had to spend many years to build his bond with Loki. He did it with much hard work and lots of care and love. Now, these two are inseparable who also share cuddles with each other as well as have conversations, play games, and do a few mischiefs in their daily life.

This pair of a best friends now spend their days chatting with each other and cuddling.

Elliot says that Loki has a unique attitude and it is sometimes a lot to handle. They both exchange gifts with each other and Loki are really fond of solving puzzles. Like any Raven, he is also a little bit of a mischievous bird and loves to undo shoelaces of people in hopes that they would trip.
Loki is also a thief as he is known for stealing food and money from time to time if that can fix in his little beak. He also trades what he steals for something like a tasty treat.
Things he steals have a buy-back price like for a cleaning sponge; it is 3 grapes while the padlock can be bought back from Loki for a chocolate biscuit.
At first, it was hard for both Elliot and Loki because of Loki being too anxious and aggressive in his new home. After years of hard work, he now has a great relationship with his new owner.

Elliot says that Loki is really like a human in his social life, intelligence, and emotions.

Seeing this amazing bird's shenanigans day in and out, Elliot decided to start a YouTube channel for Loki where he posts videos of Loki in shapes of Video Diary Series.
While you are it, these are some more videos of Loki as he is being a cute, chatty, mischievous and majestic bird.
Related Content
Photographers Get A Lifetime Chance to Photograph 5 Cheetahs Who Crossed A Crocodile Infested Flooded River
This Puppy At A Shelter Smiles At Everyone Who Passes Him By
This Cat Can Say 'Uh-Oh' Just Like A Human Whenever She's Is Hungry