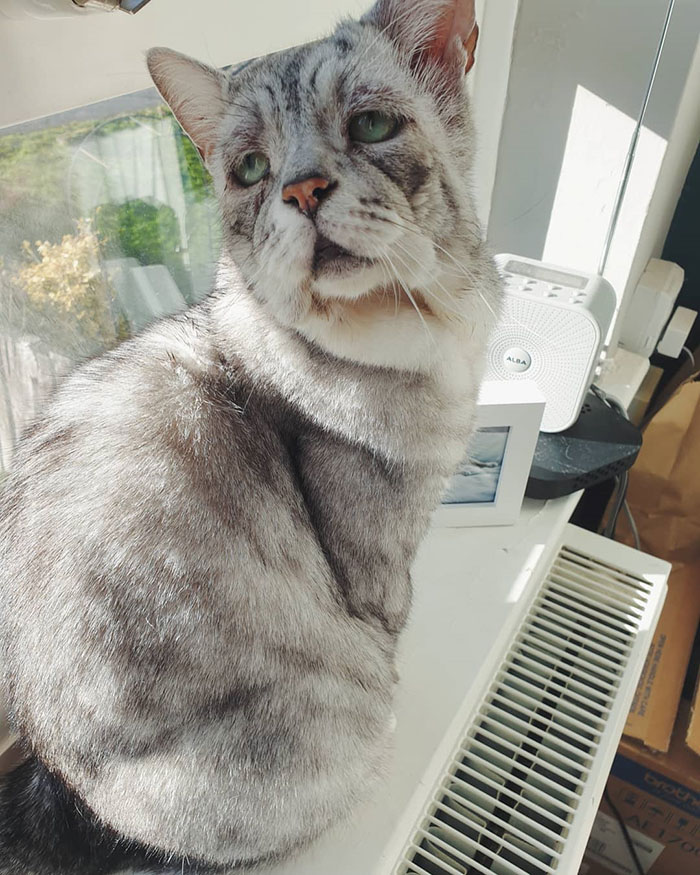 A woman named Georgina Prince and her fiancée named Christopher Lardner adopted their first pet which was a 16 years old cat named Herbie. The cat was near the end of his life and soon left them after being adopted. Even having adopted Herbie for a few months, the couple was devastated by Herbie's passing and to fill up the loss of Herbie, they decided to adopt an unexpected pet.

Georgina said, "After Herbie passed away, I started to think about all the animals that had only a few months to live but had to spend their remaining life in a kennel of a shelter. We deiced to adopt a cat that might have a difficult time getting adopted."

The couple was browsing the internet when they came upon the duo of Toby and Quinton. Quinton was a 7 years old cat which had no teeth while the 6 years old Toby had short hairs and unexpectedly loose skin.
Both of them were advertised together for adoption and the couple decided to adopt both of them.

Georgina found out that Toby suffers from a rare condition named EDS (Ehlers-Danlos syndrome) or also known as FCA (feline cutaneous asthenia). This is a congenital disease which results in cats to have stretchy and fragile skin caused by lack of collagen.

The couple went to adopt them at the RSPCA and saw both of them to be really terrified while huddling alongside each other. Toby kept on hiding behind Quinton.

While Georgina was able to pet Quinton, she could not get to Toby. There, both of them adopted Quinton and Toby and took them to their home.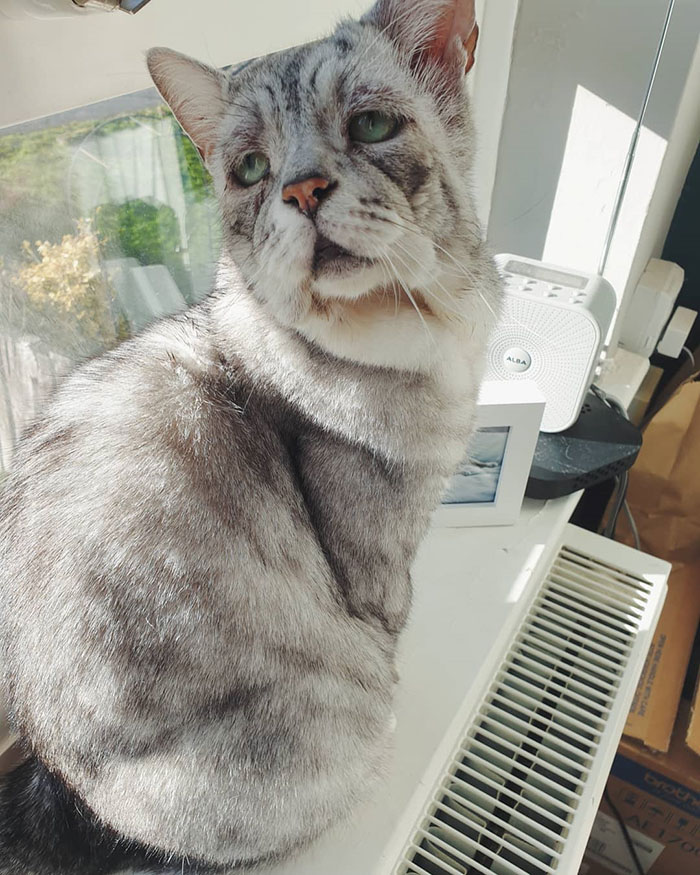 It took a little time for both cats to feel comfortable at their new home.
Georgina said, "They were really scared and lived under the bed for a few weeks. Seeing our love they slowly opened up to us. Now both of them own our place."

Still, Toby's rare condition makes him prone to injuries even if he is grooming or playing and seems to be oblivious of his condition.

Georgina says, "We are lucky that Toby's condition is not severe and we can easily manage it. We cut his nails or regular basis to avoid him scratching his skin. He often seeks Quinton to help clean him. Quinton often licks his face and head and especially the regions where there are cuts."
Aside from his condition, Toby is like any other cat. He loves to watch birds, play with the balls and snuggle with his owners.


Related Content
Teen Spots a Squirrel Frozen In Foam Insulation and Immediately Helps It
Dog Dumped While Tangled In His Leash Along With A Saddest Note
Motorcyclist Sees An Injured Bald Eagle Stuck On Road On Memorial Day Weekend And Saves Him