Nowadays there might not be a single person on the planet that has not heard about the mass devastation that is occurring in Australia and is commonly being called Bushfires in Australia. But still the Bushfires in Australia for the season of 2019-2020 is something that was never heard by anyone before. The record-breaking drought accompanied by the severe heat in Australia this year has caused severe lightning strikes which one coupled with the lack of the hazard reduction measures has led to the massive Bushfires in Australia that have left nearly 11 million hectares of the land to be scorched and left in ashes. And there seems to be nothing that can subside this raging fiery hell and it is not known as to how long will this season of the bushfires last. These Bushfires in Australia started back in August of 2019 and they are still burning will full intensity and are ravaging any kind of thing in their path including the plant, animal and human lives.
The eyes of the whole world are on this matter and they are doing whatever they can to help the continent by sending in aids as well as bringing the attention of the authorities of not only Australia but also the other world countries to the problems of climate change that have led to this atrocity.
One of the renowned families in Australia know as The Irwin Family, took it to the internet where the daughter of late patriarch of the Irwin family Steven Irwin; Bindi Irwin assured everyone that they are safe in Australia and they are doing whatever is in their power to provide help to the animals that are in need amidst these Bushfires in Australia.
The current Irwin Family is definitely carrying out the mission and the magnanimous legacy of the late Steve Irwin.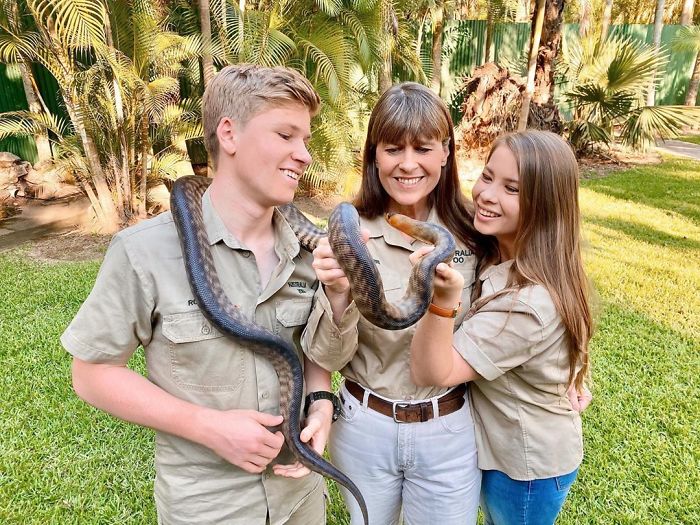 Bindi Irwin, a conservationist by profession and choice posted a picture on her Instagram handle along with a caption that is giving some explanation about the situation in Australia.
"With so many devastating fires within Australia, my heart breaks for the people and wildlife who have lost so much. I wanted to let you know that we are SAFE. There are no fires near us or our conservation properties."
Unfortunately, the homeland of Irwin Family is hit by the most terrible tragedy that it has ever seen."

"Our Wildlife Hospital is busier than ever though, having officially treated over 90,000 patients. My parents dedicated our Australia Zoo Wildlife Hospital to my beautiful grandmother. We will continue to honor her by being Wildlife Warriors and saving as many lives as we can."
As the bushfires in Australia have destroyed the land by millions of hectares, the animal life there has suffered greatly and now The Irwin Family is doing everything to help these animals.

Bindi later shared a photo of a possum that got burned badly in the bushfires and was sent to be treated at the local Wildlife Hospital. Bindi wrote that unfortunately, that poor animal could not make it alive. She writes,
"Blossom the possum was admitted to the Australia Zoo Wildlife Hospital after being caught in one of the bushfires burning in other parts of Queensland. We have such an incredible team that works day and night to protect gorgeous animals like Blossom. Devastatingly this beautiful girl didn't make it even after working so hard to save her life. I want to thank you for your kind words and support. This is the heart-wrenching truth, every day is a battle to stand up and speak for those who cannot speak for themselves. Now more than ever we need to work together to make a difference and protect our Mother Earth."


These flames that seem to give one impression of coming straight from the hell are still raging on and the numbers that are being reported by the authorities each day about the loss of land, animal and other things are so huge that one cannot truly imagine how devastating these bushfires in Australia really are. As per the estimate, a total of 6300000 hectares of land which is about 24000 square miles of 63000 km2 has been burnt down to ashes along with the loss of 2500 buildings that include more than 1300 houses. As per the last report on January 4th, 2020, nearly 24 people have died amidst these bushfires in Australia whereas 6 people are still missing in the Australian State, Victoria.



Recently the firefighters in Australia received assistance from the firefighter squads of New Zealand, Canada, and the United States. They are now all trying hand in hand to try and stop these bushfires in Australia the likes of which this country has never seen in its reported history.
While everyone is currently trying to pool in their resources and efforts to stop this hellish nightmare of a bushfire, the specialists of the environment are currently calculating the massive impact of these bushfires that they will have on the overall global environment.
It is currently believed that more than half a billion animal population has died in these bushfires in Australia while more of it will also die as a result of the loss of their natural habitat and their food sources. As per the environment minister of Australia, nearly 30 percent of the Koala population in the region of New South Wales has died which is a tremendous loss to the iconic Australian-native animal's population.


The animals are distressed heavily by these bushfires and you can also see their panic in the video below. The kangaroos are running in the video below from the heavy smoke emanating from these bushfires in Australia.
Related Content
More than 500 million Animals Have Died in the horrific Australian Bushfires
An Australian magpie mimics the sound of the emergency sirens perfectly